Rosenberg, Minc, Falkoff & Wolff, LLP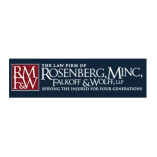 Rosenberg, Minc, Falkoff & Wolff is a personal injury law firm in New York that helps crash victims get the compensation they deserve. We recognize that remaining in a crash can be a stressful experience, both physically and financially. We comprehend the tactics insurance companies make use of to attempt and make you settle for far less than you are owed, and we will not let them get away with it. We assist crash victims receive the money they require to cover medical expenses and various other expenses related to their injuries.
We have more than 85 years of combined experience helping crash victims acquire legal representation and fair compensation. Our team is passionate about assisting people, and we will work tirelessly to obtain you the very best possible outcome. Call us today to schedule a free consultation and find out just how we can help you get back on your feet.
Contact Details
Address Details
122 East 42nd Street Suite 3800
New York
Legal Entity: Founded: No Employs: Turnover:
Map
Opening Hours
Mo: 12:00 AM To 12:00 AM Tu: 12:00 AM To 12:00 AM We: 12:00 AM To 12:00 AM Th: 12:00 AM To 12:00 AM Fr: 12:00 AM To 12:00 AM Sa: 12:00 AM To 12:00 AM Su: 12:00 AM To 12:00 AM
Send Us A Message