Mechanical Properties of Oil Casing J55 and K55 in API 5CT Specification
Mechanical properties of oil casing pipe J55 and K55 in API 5CT specification:1. Heat treatment
PSL1 requirements: In API 5CT, J55 and K55 require delivery in rolled state;
PSL2 requirements: In API 5CT, J55 and K55 oil casing should be normalized and tempered as a whole.
2. Tensile test
J55: Yield strength: 379MPa~552MPa; tensile strength ≥517MPa; minimum elongation of J55 is 19%;
K55: Yield strength: 379MPa~552MPa; tensile strength ≥655MPa; minimum elongation of K55 is 15%.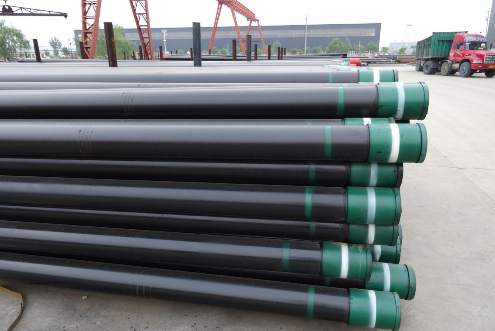 3. Impact test
J55 and K55 in API 5CT must be subjected to impact test. The minimum size sample impact test energy is 20J, and the minimum full size sample longitudinal impact energy is 27J.
4. Wall thickness inspection
PSL1: The wall thickness measurement of J55 and K55 has no coverage requirements;
PSL2: Wall thickness measurement J55 and K55 processing full length automatic detection system surface area best coverage rate should reach 25%.
5. Non-destructive testing
PSL1:
J55 and K55
do not have mandatory requirements for destructive testing;
PSL2: For all pipelines, J55 and K55 tubing and casing should be tested according to one or more standards specified in the API 5CT specification to determine the inner and outer surfaces of the pipeline. And J55 and K55 can accept L4 longitudinal defect level.

Tips: Oil casing pipes can be divided into different steel grades according to the strength of the steel itself, namely J55, K55, N80, L80, C90, T95, P110, Q125, V150, etc. Different well conditions and depths have different steel grades. In corrosive environments, the casing itself is also required to have corrosion resistance, and in places with complex geological conditions, it is also required to have anti-collapse performance.
Oil Drilling Equipment & Supplies Steel Tube Manufacturers And Supply Metal Pipes And Fittings Boring Drilling & Excavation Agriculture And Mining
Send Us A Message