How to Distinguish the Thread of Oil Casing Pipe?
Oil casing buckle type code: short circle (BTC), long circle (LC), buttress (BC), some imported goods are marked with the word LTC, that is, long threaded oil casing pipe.
Let us follow the oil casing manufacturers to learn more about it:
Common tubing threadTubing thread is commonly divided into three types: EU, NU and New Vam
. These three types of buckle can be found in the tool shop, among which EU and NU are difficult to distinguish from the appearance of the buckle alone, and they are all triangular buckle types. But it can be easily distinguished from the entire pipe string, that is, EU means external thickening, and NU means no external thickening.
New Vam is actually a trapezoidal buckle (the cross section of the buckle is rectangular), and it is also not thickened outside, so it is easy to distinguish.
The three types of buckles will be described in detail below with schematic diagrams.
1) EU(External upset)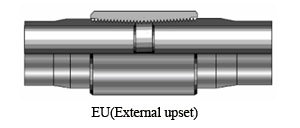 EU is an outer thickened tubing buckle type. Three kinds of EU-related Biano logos will also be found in the process of recognizing the variable buckle joints on the shop shelves.
Among them, EUE (External Upset End) represents the outer upset end, EUP (External Upset Pin) represents the outer upset male buckle, and EUB (Extermal Upset Box) represents the outer upset female buckle.
In addition to using pin and box to indicate male and female buttons, the others indicate that there are 1. external thread; 2. male; 3. male thread. The female buckle has 1. female thread; 2. internal thread; 3. box; 4. box thread.
2) NU (Non-upset)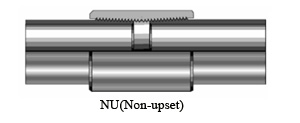 NU is a kind of non-upset oil pipe joint, in addition to no external upset, NU is usually 10 threads per inch and EU is 8 threads per inch. NUE represents a non thickening end or end thickening.
3) New Vam

This thread is substantially rectangular-shaped cross section, equal pitch intervals, little taper and no external upset. The VAM with excellent performance, high connecting strength and good sealing effectcan meet requirements of different service conditions. This thread is widely used in all kinds of special thread and it belongs to the high quality special thread. VAM follow the thread specification of API, thus inherits the advantages of high bonding strength. It improved Screw seal form in order to overcome the poor sealing performance.
Metal Pipes And Fittings Oil And Gas Extraction Oil Drilling Equipment & Supplies Steel Tube Manufacturers And Supply
Send Us A Message